More pasture means more profit. Green Streams knows the importance of eliminating weeds to let pastures flourish, but we also know how important it is that we protect our waterways and native plantations.
We have the gear for all occasions:
200 metre hoses to get into those hard to reach places.
Light 4 x 4 vehicles, minimum pasture damage.
No job is a too big with our 1000 litre tank
Knapsack spraying, specialising in sensitive spraying
Native tree spray maintenance and tree releasing.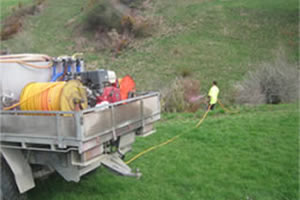 "Green Streams Ltd has undertaken vegetation management along waterway margins in the Waipa River zone. Good communication with the supervisors and provided diligent work at the requested time frame and to budget.
Russell Powell - Waikato Regional Council
Read Full Review
Interested or like to know more?